St. Michael's College School
Performing Arts Centre
Project Value: $11.7 Million
Completion: March 2010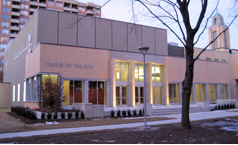 This 440-seat theatre and gallery addition to the largest Catholic independent school in Canada opened in April 2010. The Centre was designed to carefully integrate functionally and structurally with the existing school building. IPM was involved from project conception as part of the school's strategic planning committee, through managing the concept design and initial costing study with the President's Advisory Committee. IPM then retained all consultants and the contractor in a hybrid construction manager/general contractor role. IPM directly managed the Site Plan Application and Building Permit process and retained/managed all specialist consultants – theatre design, geotechnical, site engineering, building envelope, surveyors, hazardous substances and acoustics. IPM chaired the design meetings and assumed the lead in a value engineering exercise necessitated when the architect's design came in almost 50% over the conceptual stage budget. By making strategic decisions on behalf of the School, IPM managed to reduce the cost estimate to within 15% of the original concept estimate while retaining all of the client's program goals. SMCS authorized IPM to sign off on all contract awards and Change Orders. IPM reported on a regular and as-needed basis to the President and his Advisory Committee and Board of Directors.
In two areas specifically, IPM stepped in to ensure work was completed to the School's satisfaction. IPM was asked to assume the design, selection and direct construction administration of all theatre equipment and the finishes for the facility including colours, carpets, theatre seats and both interior and exterior signage. IPM was also required to assume design and construction document preparation for the building's front terrace and all grounds landscaping.
Substantial completion was achieved 4 months in advance of the grand opening date and unanticipated Change Orders were limited to just over 1% of the construction cost.